Echinacea + Vitamin C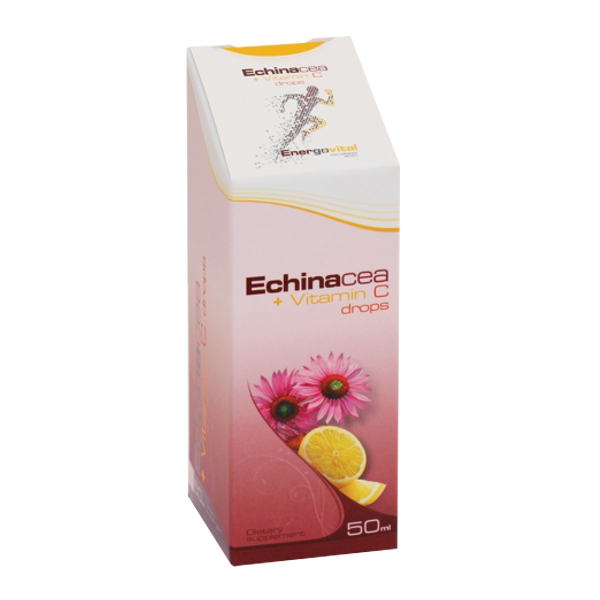 Product attributes
In stock: 100 Package
The Echinacea + Vitamin C product is a food supplement
Price: $14.90 / Package

Shipping cost:

Free of charge
Add to cart
Product description
Echinacea+Vitamin C drops Dietary supplements

Echinacea is an herb. Several species of the echinacea plant are used to make medicine from its leaves, flower, and root.
Echinacea is widely used to fight infections, especially the common cold and other upper respiratory infections. Some people take echinacea at the first sign of a cold, hoping they will be able to keep the cold from developing. Other people take echinacea after cold symptoms have started, hoping they can make symptoms less severe. The people who use echinacea to treat symptoms have the right idea. Research to date shows that echinacea probably modestly reduces cold symptoms, but it's not clear whether it helps prevent colds from developing.
Echinacea is also used against many other infections including the flu, urinary tract infections, vaginal yeast infections, genital herpes, bloodstream infections (septicemia), gum disease, tonsillitis, streptococcus infections, syphilis, typhoid, malaria, and diphtheria.
Other uses not related to infection include chronic fatigue syndrome (CFS), rheumatism, migraines, acid indigestion, pain, dizziness, rattlesnake bites, and attention deficit-hyperactivity disorder (ADHD).
Sometimes people apply echinacea to their skin to treat boils, abscesses, skin wounds, ulcers, burns, eczema, psoriasis, UV radiation skin damage, herpes simplex, bee stings, and hemorrhoids.
Echinacea species are native to North America and were used as traditional herbal remedies by the Great Plains Indian tribes. Later, settlers followed the Indians' example and began using echinacea for medicinal purposes as well. For a time, echinacea enjoyed official status as a result of being listed in the US National Formulary from 1916-1950. However, use of echinacea fell out of favor in the United States with the discovery of antibiotics and due to the lack of scientific evidence supporting its use. But now, people are becoming interested in echinacea again because some antibiotics don't work as well as they used to against certain bacteria.

How does it work?
Echinacea seems to activate chemicals in the body that decrease inflammation, which might reduce cold and flu symptoms.
Laboratory research suggests that echinacea can stimulate the body's immune system, but there is no evidence that this occurs in people.
Echinacea also seems to contain some chemicals that can attack yeast and other kinds of fungi directly.

Vitamin C

Vitamin C is a vitamin. Some animals can make their own vitamin C, but people must get this vitamin from food and other sources. Good sources of vitamin C are fresh fruits and vegetables, especially citrus fruits. Vitamin C can also be made in a laboratory.
Most experts recommend getting vitamin C from a diet high in fruits and vegetables rather than taking supplements.
Historically, vitamin C was used for preventing and treating scurvy. Scurvy is now relatively rare, but it was once common among sailors, pirates, and others who spent long periods of time onboard ships. When the voyages lasted longer than the supply of fruits and vegetables, the sailors began to suffer from vitamin C deficiency, which led to scurvy.
These days, vitamin C is used most often for preventing and treating the common cold. Some people use it for other infections including gum disease, acne and other skin infections, bronchitis, human immunodeficiency virus (HIV) disease, stomach ulcers caused by bacteria called Helicobacter pylori, tuberculosis, dysentery (an infection of the lower intestine), and skin infections that produce boils (furunculosis). It is also used for infections of the bladder and prostate.
Some people use vitamin C for depression, thinking problems, dementia, Alzheimer's disease, physical and mental stress, fatigue, and attention deficit-hyperactivity disorder (ADHD).
Other uses include increasing the absorption of iron from foods and correcting a protein imbalance in certain newborns (tyrosinemia).
There is some thought that vitamin C might help the heart and blood vessels. It is used for hardening of the arteries, preventing clots in veins and arteries, heart attack, stroke, high blood pressure, and high cholesterol.
Vitamin C is also used for glaucoma, preventing cataracts, preventing gallbladder disease, dental cavities (caries), constipation, Lyme disease, boosting the immune system, heat stroke, hay fever, asthma, bronchitis, cystic fibrosis, infertility, diabetes, chronic fatigue syndrome (CFS), autism, collagen disorders, arthritis and bursitis, back pain and disc swelling, cancer, and osteoporosis.
Additional uses include improving physical endurance and slowing aging, as well as counteracting the side effects of cortisone and related drugs, and aiding drug withdrawal in addiction.
Sometimes, people put vitamin C on their skin to protect it against the sun, pollutants, and other environmental hazards. Vitamin C is also applied to the skin to help with damage from radiation therapy.

How does it work?
Vitamin C is required for the proper development and function of many parts of the body. It also plays an important role in maintaining proper immune function.